Just Married: Forever preserved on vinyl record!
Mr and Mrs Agnew are now officially husband and wife! What better occasion to preserve forever, on a long lasting format that can be enjoyed by future generations?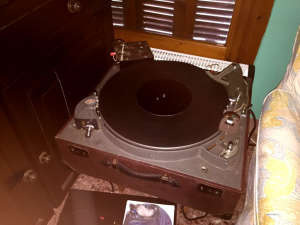 The wedding ceremony and the wedding speech of J. I.'s father were recorded direct-to-disk, using a 1930's Presto 75A disk recording lathe. It was also recorded in parallel on analog tape. A Nikon FT-2 35 mm film SLR camera was used for photography.
Analog media will last a very long time, making them ideal for the documentation of important events. They also contributed beautifully to the romantic aesthetic of our wedding.
We grew up with real film photographs of our ancestors and shellac or vinyl records of our favorite music. It is now our duty to keep this tradition going, for after all, this is our cultural heritage. It is our honor to actively use, preserve and even improve this incredible technology.