Precision Transducer Development
This item is the latest addition to our collection of experimental transducer prototypes. What you see is a multi-layer miniature winding on a custom machined former, entirely made in-house at the Agnew Analog Research & Development Laboratory.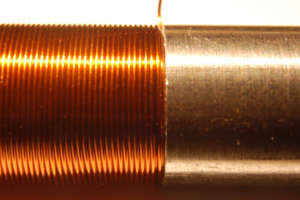 As part of our engineering consulting work, but also for our own projects, we have been developing precision transducers for vibration analysis, voice coils, cutter head systems for disk recording, sensors for feedback control systems, instrumentation transducers, field coils and several other innovative components.
You can expect to see more transducer-based Agnew Analog products in the near future. In the meantime, if you need any help with custom transducers, inductors, transformers, etc., we can machine, wind, or otherwise assemble what others cannot, from one unit to as many as you need.
We can assist you in your R&D work or academic research project.
Feel free to contact us with your requirements.